Equipment
SE&M has invested wisely to give our shop vast capabilities. We provide our people with the best equipment so that they can do quality work in a timely manner, with the precision necessary to do the job right. Listed below are just a few of the items you will find in our shop.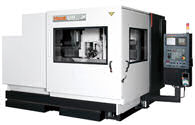 Mazak Space Gear U44
This 2D/3D laser cutting machine gives us the capability to cut, profile, countersink and bevel contoured parts and complex geometries. We can quickly machine parts such as uniframe housings, I and H beams, C channel and angle iron. It also excels in cutting round, square, rectangular, and triangular tubing, and hydro-formed, stamped or spun pre-formed parts. A custom built bar feeder gives us added capabilities.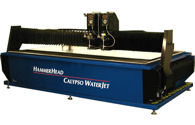 Calypso HammerHead WaterJet
This machine allows us to cut a wide variety of materials with precision accuracy using water and granular agate under very high pressure. Because there is no heat, cutting is done without burning or distorting the part. Will cut through virtually any material up to 6-inches thick and sheets as large as 5' x 10'. Can cut virtually any shape imaginable to a smooth finish.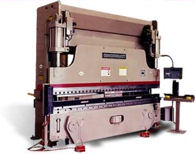 Cincinnati Form Master II Press Brake
This 90-ton capacity press brake allows us to accurately form various parts and materials up to 10-foot long. The CNC interface enables us to make fast, first-time setups, and to recall them later, quickly and accurately. Plus it gives us the capability to do complicated, multiple-bend parts.
An additional press brake gives us 230-ton capacity for pieces up to 12-foot long.

Lincoln/Fanuc Robotic Welding Cell
This flexible robotic welder gives us precise, high-speed welding capabilities. It produces long, high quality welds without stopping and requires minimal post weld cleaning. Equipped with two rotational positioners that can cover 60-inches diameter and up to 118-inches long.
Other Noteworthy Equipment:
Mitsubishi Laser
Haas CNC Mini Mill
Amera Seika CNC Lathe
(2) Hardinge Precision Lathes
Timesavers Metal Finisher
Metal Inert Gas (MIG) Welders *
Tungsten Inert Gas (TIG) Welders *
Electro-Static Powder Coat Paint Booth
14' x 9' x 25' (10' x 9' door opening)
Powder Coat Paint Curing Oven
11' x 10' x 25' (10' x 10' door opening)
* Our welders are code qualified.
* We conduct nondestructive weld testing (NDT) as required.
We use both dye-penetrant and magnetic-particle methods.
SE&M Featured in Magazine
Read the featured article about SE&M in the Oct 2011 edition of The Fabricator

See Our 6-Axis Laser with Bar feeder in Action!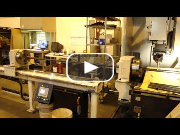 Lightbox for Videos by VideoLightBox.com v1.11
Other videos demonstrating our capabilities are available upon request.